About Us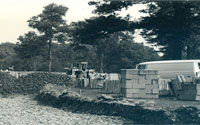 Fort Myer Construction Corporation is a leading contractor in the Washington DC metropolitan area, focusing on an array of infrastructure construction disciplines. Located in the DC Metropolitan area, Fort Myer is uniquely organized to be responsive to the infrastructure needs of its clients due to the resources and relationships it has developed over its many years as a DC-based business. Founded in 1972 as a small masonry and concrete contractor, the owners began with no money and an enormous dream. Although they started with nothing, the company developed to a stable infrastructure construction resource for this area. Today, the Fort Myer team has grown to more than 900 including craftsman, administrative staff, project managers, professional engineers, estimators, and a fully staffed safety department. Its fleet includes more than several hundred pieces of equipment including tandem dump trucks, pavers, milling machines, backhoes, dozers, motor graders, as well as numerous loaders and cranes.
Not many companies have asphalt plants in urban areas, but Fort Myer is unique in this way! Fort Myer owns and operates 2 asphalt plants within the District of Columbia, offering customers various federal and state approved mixes. Fort Myer's plants service the Maryland, Virginia, and DC area with several hundred thousand tons of asphalt material annually.
Fort Myer typically self-performs critical work items including earthwork, excavation, concrete & asphalt paving, site development, foundations and structures. By self-performing much of this work, Fort Myer provides clients with cost and scheduling savings.
Fort Myer has received many awards for its outstanding record of construction safety. This distinction not only rewards it for its continuing corporate focus on professionalism and safety throughout the Company, but it spotlights Fort Myer as a company that protects its workers, the workers of other companies, as well as the general public.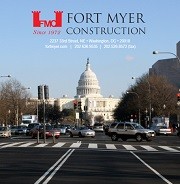 The cornerstones of Fort Myer's success continue to sustain its growth: quality workmanship based on skills and expertise of a diverse and local staff committed to excellence; reliability in completing projects in a timely manner; flexibility in working as part of the client's team; financial strength to provide the needed resources for each job; and strong, professional management. These assets have made Fort Myer a formidable participant in development and construction for over 45 years.
Community Service
Throughout the history of Fort Myer, we have been committed to being a good neighbor and proactive advocate for our community's businesses, youth, and local minority populations. We are proud of our efforts to make our community a better place to live, work, and raise our families. These efforts are represented by our financial giving, as well as the giving of our energy, time, and skills to community service groups, minorities, local business, and youth. Our civic character is demonstrated in our regular support of numerous local charities, associations, clubs, and teams.
We love DC and are embedded in the fabric of this wonderful city.
To download a PDF of our full company brochure, click here.