Snow & Ice Removal

Old Man Winter regularly makes his presence known in the District, Maryland, and Virginia region. We pride ourselves on being ready to greet him with our reliable and efficient winter services. Annually exchanging milling machines for snow plows and asphalt for rock salt, we provide winter weather management services for the local Departments of Transportation. Specifically, operations for Virginia include snow plowing and de-icing along I-495 including all on/off ramps, interchanges, as well as various neighboring roadways in the northern Virginia area. As an on-call service contractor, Fort Myer manages the supply and operation of heavy snow plowing and handling equipment across metropolitan DC each winter season.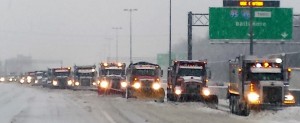 Our team is dedicated to being a dependable resource, even in the most treacherous months of the year. We proactively monitor weather forecasts to ready our crews during constantly changing conditions. In addition, we offer customers 24/7 support to ensure prompt and efficient service. Our reliable workforce, rapid dispatch service, local storage sites, and fleet of vehicles ensure top customer satisfaction with our pre-treatment and snow removal services. Whether it is a small neighborhood backstreet or a large interstate highway, we are the go-to resource for safe and accessible roadways during the winter season.
Fort Myer Construction's winter team recently received praise from their client and the driving public for "outstanding" work responding to a snow event in February 2015. To view comments and commendation posted on social media, click here. Check out the video below to see snow plowing in action for Virginia Department of Transportation along I-495.