The FMCC Small Business Relationship and Networking Roundtable is intended to foster and promote professionalism and integrity through a series of roundtable meetings designed for businesses aiming to grow, enhance their skills, and develop professional relationships to help them move their business to the next level.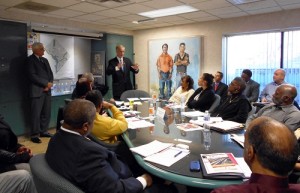 The roundtable guest speakers are from the government and private sector. These experts lead various workshops on enhancing business growth, partnering, finance, bonding, relationship building, subcontracting opportunities, business procurement opportunities, and more. Consequently, participants are introduced to local, federal, and private industry professionals, as well as contract procurement officials. Information is provided on current and upcoming procurement opportunities, and available prime and subcontracting opportunities. Matches are made between prime contractors with subcontractors. The roundtable also provides a forum, networking opportunities, and information to initiate and develop business relationships.
Established in 2010, the program has grown to over 30 small businesses and their owners participating in personally meeting representatives of dozens of District of Columbia, Maryland, and Virginia agencies. They also interact with a sizable number of prime contractors, joint ventures, developers, lawyers, accountants, bonding and insurance companies, and attend special sessions with City Council members that specifically deal with Small and Local Business Development. Additionally, Fort Myer provides unique and unparalleled access to its own Estimating Division, accountants, attorneys, and other internal professionals to foster advice and counseling.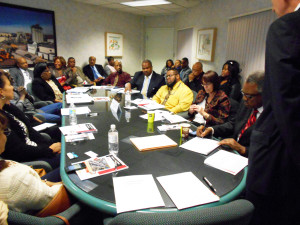 As a result of this program, Fort Myer, and other entities have entered into contracts and business relationships with many of the participants, variously operating as either subcontractors or even prime contractors on different projects. Our FMCC small business members are networking, interacting, and developing business relationships/teams that strengthen their capacities and create a strong positive impact when seeking larger opportunities.
Benefits
Introduction to local, federal and private industry professional procurement staff
Provides information on current and upcoming procurement opportunities
Provide information on available prime and subcontracting contracting opportunities
Match prime contractors with subcontractors
Provides forums and information to develop relationships with minority contractors of various trades
Networking and more…
Upcoming Schedule
Date and Time
Topic
Guest Speaker(s)
Wed. Sept. 26, 2018
3:00 to 5:00 pm
Doing Business with:
District Department of General Services

George Lewis, CPPO
Associate Director
Contracts and Procurement
Wed. Oct. 31, 2018
3:00 to 5:00 pm
Doing Business with:
District Office of Contracting and Procurement
George Schutter, Chief Procurement Officer,
Nancy Hapeman, Deputy Chief Procurement Officer
William Teague, Ombudsman
Wed. Nov. 28, 2018
3:00 to 5:00 pm
An informative session about:
Comprehensive financial planning
for business owners with
Avenue Wealth, LLC

Kinsley Davis, Financial Adviser
Past Roundtables
Date and Time
Topic
Guest Speaker(s)
Wed. Sept. 24, 2014
3:00 to 5:00 pm
Doing Business with:
US Department of Transportation
and
Construction Bonds, Inc.
Nyime J. Gilchrist,
National Bonding Education
Program Manager
USDOT Office of Small &
Disadvantaged Business Utilization
and; Josh A. Etemadi, Sales Manager
Construction Bonds Inc.
Wed. Oct. 29, 2014
3:00 to 5:00 pm
Doing Business with:
Bank of Georgetown
Jeffrey A. Banks, Managing Director
Business Development
Tim Veith, Executive VP
Chief Lending Officer
Wed. Nov. 19, 2014
3:00 to 5:00 pm
Doing Business with:
Optimization Solutions Consulting
Walter S. Swindell, II
President
Wed. January 28, 2015
3:00 to 5:00 pm
Doing Business with:
Pepco Holdings, Inc.
Charlie M. Partridge
Supplier Diversity Regional Manager
Wed. Feb. 25, 2015
3:00 to 5:00 pm
Doing Business with:
District Department of Housing Authority
Adrianne Todman
Executive Director
Wed. March 25, 2015
3:00 to 5:00 pm
Doing Business with:
Washington Metropolitan Area
Transit Authority
Betty V. Toulson, Coordinator
Small Business Programs
Office of Procurement & Materials
Wed. April 29, 2015
3:00 to 5:00 pm
Doing Business with:
Fort Myer Construction, Part I:

Bidding
Estimating
Purchasing

FMCC Staff:
Manuel Fernandes, VP, Estimating
Estimating Team
Paul Wilkerson, Purchasing
Wed. May 27, 2015
3:00 to 5:00 pm
Doing Business with:
Fort Myer Construction, Part II:
FMCC Staff:
Randy Brown, FMCC Project Manager
Wed. June 24, 2015
3:00 to 5:00 pm
Doing Business with:
Fort Myer Construction, Part III:
FMCC Staff:
Hector Sealey, VP, Safety Department
Richard Tupper, Safety Director
Wed. July 29, 2015
3:00 to 5:00 pm
Doing Business with:
Fort Myer Construction, Part IV:
FMCC Staff:
Chris Kerns, VP & General Counsel
Legal and Safety Department
Wed. Sept 30, 2015
3:00 to 5:00 pm
Doing Business with:
District Department of Transportation
Office of Civil Rights
Lisa Gregory, Chief Director
Linda Fennell, Manager/DBE Supportive Services
Mohammed Kabir, Sr. Local and
Federal Compliance Officer
Wed. Oct 28, 2015
3:00 to 5:00 pm
Doing Business with:
District of Columbia Water & Sewer Authority
Construction Contracting Department of Procurement
Korey Gray, Contract and Compliance Officer
De'Nerika Johnson, Manager Construction Department
Wed. Nov 18, 2015
3:00 to 5:00 pm
Doing Business with:
Howard University
Office of Procurement and Contracting
Rawle Howard, Executive Director of
Procurement and Contracting
Wed. Jan 27, 2016
3:00 to 5:00 pm
Doing Business with:
District Department of Transportation
Office of Contracts and Procurement
Courtney Lattimore, Chief Contracting Officer
Keith Foxx, Program Manager
Infrastructure Project Management Administration
Wed. Feb 24, 2016
3:00 to 5:00 pm
Doing Business with:
District of Columbia Office of Contracting and Procurement
George Schutter, Chief Procurement Officer (invited)
Elizabeth Anderson, Public Affairs Specialist
Wed. March 30, 2016
3:00 to 5:00 pm
Doing Business with:
Global Strategies, LLC
Get Your Bookkeeping Under Control
Janelle Miley, MBA Partner & Chief Executive Officer
Click here to visit Global Strategies, LLC and learn more.
Wed. April 27, 2016
3:00 to 5:00 pm
Doing Business with:
District of Columbia Housing Authority
Adrianne Todman, Executive Director
Lorry Bonds, Director of Administrative Services
*DATE CHANGE*
Tues. May 24, 2016
3:00 to 5:00 pm
Learn about:
How to Team and Form Joint Ventures from
Dynamic Concepts, Inc.
Pedro Alfonso, Chairman and CEO
*DATE CHANGE*

Thurs. June 23, 2016
3:00 to 5:00 pm

Doing Business with:
Walter E. Washington Convention Center / EventsDC

Henry W. Mosley, Chief Financial Officer
Candace Butler, Senior Contracts and Procurement Manager
Wed. July 27, 2016
3:00 to 5:00 pm
Learn about:
The Importance of Surety Bonds in Construction from
The Surety and Fidelity Association of America

Joanne Brooks, VP and Counsel
(No Aug. Roundtable)
Wed. Sept. 28, 2016
3:00 to 5:00 pm
Doing Business with
Maryland Department of Transportation

Michael D. Smith, Public Relations and Outreach Manger
Office of Small and Minority Business Policy
Wed. Oct. 26, 2016
3:00 to 5:00 pm
Doing Business with:
District of Columbia Public Library (DCPL)

Diane Wooden, Contracting Officer
Wed. Nov. 30, 2016
3:00 to 5:00 pm
Doing Business with:
Metropolitan Washington Airport Authority (MWAA)

Richard Gordon, Manager of Equal Opportunity Programs,
Department of Supplier Diversity
Wed. Jan 25, 2017
3:00 to 5:00 pm
Doing Business with:
District Department of Transportation (DDOT)
Office of Civil Rights

Lisa Gregory ESQ, Chief Director
Mohammed Kabir, Senior Local & Federal Compliance Officer
Wed. Feb. 22, 2017
3:00 to 5:00 pm
Doing Business with:
District of Columbia Water and Sewer Authority (DC Water) –
Department of Construction Contracting and Procurement

Korey Gray, Contracting and Compliance Officer
De'Nerika Johnson, Manager Construction Department
Wed. March 29, 2017
3:00 to 5:00 pm
Doing Business with:
District Department of Housing and Community Development (DHCD)

Polly Donaldson, Director DHCD
Wed. April 26, 2017
3:00 to 5:00 pm
Doing Business with:
DC Chamber of Commerce
Amall Business / DC Health-Link

Margaret Singleton, Director
Linda Currie, Assistant Director
Wed. May 31, 2017
3:00 to 5:00 pm
Doing Business with:
Construction Bonds, Inc.

Josh Etemadi, Assistant VP
Edin Zukanovic, Surety Bond Consultant
Wed. June 28, 2017
3:00 to 5:00 pm
Doing Business with:
Department of Local and Small Business Development

Ana Harvey, Director
Wed. July 26, 2017
3:00 to 5:00 pm
Doing Business with:
Liz Cadogan & Associates, LLC. Small Business & Leadership Development

Elizabeth Cadogan, Principal Consultant & CEO
Wed. Sept 27, 2017
3:00 to 5:00 pm
Doing Business with:
Georgetown University

O.T. Wells, Chief Procurement Officer
Georgetown Sourcing and Procurement Services
Wed. Oct 25, 2017
3:00 to 5:00 pm
Doing Business with:
District of Columbia Department of Transportation

William Sharp, Chief Contracting Officer
Office of Contracting and Procurement
Wed. Nov. 29, 2017
3:00 to 5:00 pm
Doing Business with:
Washington Metropolitan Area Transit Authority

Rick Owens, Procurement Manager
Office of Procurement and Materials Department of Finance
Wed. Jan 31, 2018
3:00 to 5:00 pm
Doing Business with:
Washington Convention and Sports Authority t/a Events-DC

Erin Oliver, Director
Contracts and Procurement
Wed. Feb. 28, 2018
3:00 to 5:00 pm
Doing Business with:
Metropolitan Washington Airport Authority

Richard Gordon, Manager
Department of Supply and Diversity
Wed. March 28, 2018
3:00 to 5:00 pm
Doing Business with:
Department of Small and Local Business Development

Kristi Whitfield, Acting Director
Wed. April. 25, 2018
3:00 to 5:00 pm
Doing Business with:
Department of General Services

Greer Gillis, Director
*NOTE: SPECIAL DATE!*

Wed. May 16, 2018
3:00 to 5:00 pm

Doing Business with:
District Department of Transportation

William "Bill" Sharp,
Chief Contracting Officer
Wed. June 27, 2018
3:00 to 5:00 pm
Doing Business with:
Construction Bonds, Inc.

Joshua Etemadi, Assistant Vice President
Edin Eukanovic, Sales Executive
Wed. July 25, 2018
3:00 to 5:00 pm
Doing Business with:
American Subcontractors Association (ASA)
Ike Casey, Executive Director