Safety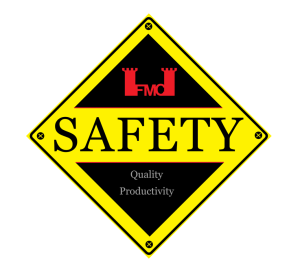 At Fort Myer, safety isn't just a goal. It's an expectation. For us, safety is a key thread that binds our company culture. We consider ourselves a family and it's everyone's responsibility to keep each family member out of harm's way. Our team has received many awards for our outstanding record of construction safety, spotlighting our professionalism and reinforcing our continual drive for keeping our employees and the public safe.
Fully Staffed Safety Department
We have a fully staffed safety department that regularly ensures our crews and leaders are meeting and exceeding safety standards. Convening daily before any work begins, safety professionals go over the projects on hand, potential risks, mitigation options, and best practices to highlight and infuse throughout the project sites.

The safety crew is responsible for orchestrating the careful exit of Fort Myer's entire fleet of trucks and equipment each morning. Once the yard is empty, they dispatch their own safety vehicles to each project for guidance, facilitation, and supervision of our number one priority: safe work.

Technology
The team leverages new technology to stay ahead of the curve and be as proactive as possible in promoting our culture of safety.  Tablets are used to keep daily reports, document issues, snap and share photos, record videos, supplement on-site resources, research data, and track progress.