Asphalt Supply & Paving

Fort Myer furnishes a variety of mixes from its two state-of-the-art asphalt plants, using recycled asphalt to the fullest extent. With competitive prices and mixes that meet the most stringent specifications, our asphalt division is the leading supplier of asphalt in Washington, DC.
Producing virgin and recycled asphalt pavement (RAP) mixes, we supply state- and county-approved asphalt to a broad customer base in the District of Columbia, Maryland, and Virginia. We also support our own crews paving streets, highways, parking lots, and bicycle paths. Fort Myer is known for delivering a superior product "at the plant" and "on the ground."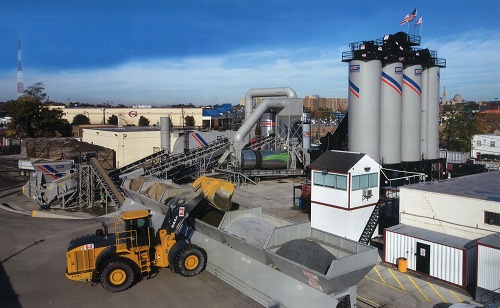 Asphalt Plant #1
2000 5th Street NE
Washington, DC 20002
Tel: 202.526.6977
---
Asphalt Plant #2
1155 W Street NE
Washington, DC 20002
Tel: 202.269.0400
---
Mix Designs

Price*

DC DOT Approved Mixes
9.5 / 12.5 mm Virgin
$76 / ton
9.5 / 12.5 mm RAP
$69 / ton
19 mm Virgin
$72 / ton
19 mm RAP
$62 / ton
Maryland Mixes
9.5 mm /12.5 mm

$66 / ton
19 mm / 25 mm
$62 / ton
Virginia Mixes
SM 9.5 A & D
$62 / ton
SM 12.5 A & D
$62 / ton
IM 19 A
$62 / ton
BM 25 A
$62 / ton
*New Prices effective May 1, 2015
Additional Mixes

Price

Cold Mix
$115 / ton
Curb Mix
$112.50 / ton
Sand Bed Mix
$108.50 / ton
(SAS) 4.75mm
$215 / ton
Liquid Tack
$55 / 5 gal. bucket (bucket not supplied)
$5 / gal. in bulk
Empty Buckets (5 gal.)
$10 each
The prices above are subject to change as asphalt binders costs fluctuate, and changes may be made without notice.
Please contact our plants the day before pickup to verify the availability of your required asphalt mix. For other asphalt mixes, project quotes, and purchases over 1,000 tons, contact David Love at our offices or on his cell phone 202-498-1006.
Sales terms are 2/10, net 30 from invoice date. Discount is applicable to the before tax amount. Over due amounts bear a 1.50% per month interest. If in default, purchaser is responsible for all collection costs and attorneys' fees. Any quantity or quality issues are to be reported in writing within seven (7) days of purchase date, otherwise, they are waived. District of Columbia sales tax is applicable to all sales unless a valid tax certificate is provided prior to the sale.
Credit card (Visa & MasterCard) purchases can be made directly at our two asphalt plants or by calling our Accounts Receivable Department for pre-purchases.