Employment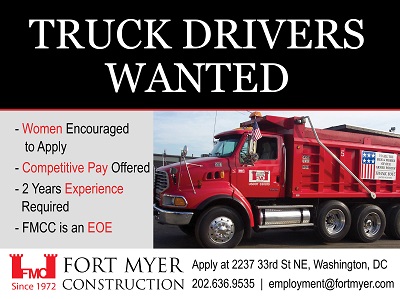 Fort Myer Construction is currently taking applications for field and administrative construction positions. Fort Myer offers outstanding growth opportunities for hard working construction professionals. Applications are available on-site in the Human Resources building at our main office between the hours of 9:00 am – 3:00 pm.  Applications must be completely filled out or are not considered valid. For questions or information regarding employment at FMCC, please contact us.
Contact
Attn: Human Resources
2237 33rd Street, NE, Washington, DC 20018
p: 202-636-9535  ext.2400  |  f: 202-832-7678  |  employment@fortmyer.us
Current Job Openings
---
FMCC is an E-Verify Employer
Click here to learn more about E-Verify.
 
Equal Employment Opportunity
Fort Myer Construction Corporation is an Equal Opportunity Employer and fully subscribes to the principles of Equal Employment Opportunity.  Applicants and/or employees are considered for hire, promotion, training opportunities, and work assignments, without regard to race, color, religion, creed, sex, sexual orientation, gender identity, marital status, national origin, age, veteran status or disability.
Click below to learn more about EEO
En Español: La igualdad de oportunidades de empleo es LA LEY  |   "IOE es la Ley" Cartel Suplementario
---
Disabled Applicants
Please contact us if you require a reasonable accommodation to assist you in the application process. Individuals with disabilities may contact the Fort Myer Construction Corporation's Human Resources Department for help with submission of interest in employment opportunities in any of the following ways:
1) Phone: 202.636.9535 ext. 2400
2) Fax: 202.832.7678
3) Email: employment@fortmyer.us